Eating in difficult conditions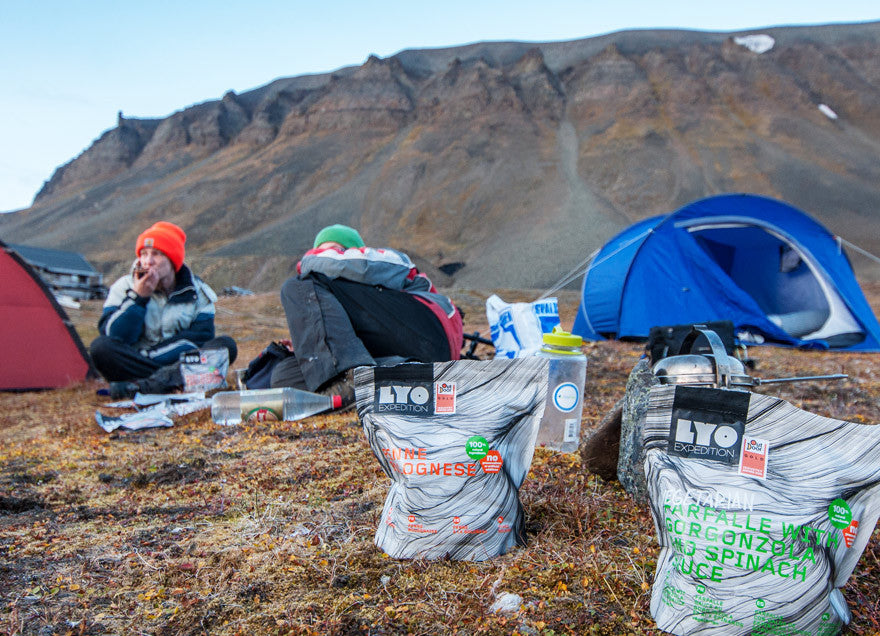 by Andrzej Budnik
Before going to Spitsbergen we had to equip ourselves in freeze-dried food. The choice is not simple, especially when you don't have any idea about it. For those, who have to make this decision too, here are a few tips and ideas.
Freeze-dried food - the topic was totally unknown for us. Until now, we had managed ourselves all our culinary issues - we dried meat, bought dried vegetables, fruits and herbs. This time we were going to hike across the arctic tundra and in this case freeze-dried food is really practical, but I confess that it's expensive. The main reason, why we were forced to buy this food, was lack of time. Cooking is very much time-consuming and preparation of meals for 10 people could completely destroy our escapade across the tundra.
We approached the subject of freeze-dried food with trepidation. We associated freeze-dried food with unpleasant mash without smell and taste. We didn't know how to start, so we relied on our friends' advices. There are many companies producing freeze-dried food, among them we chose: Trek'n'Eat, Mountain House and LYOFOOD.
We asked the companies to send us some samples. After a few days we received testing portions and we started testing and comparing the prices. The first part was for us a big surprise, because the food was much better that we had expected. Every company offers different package and they pack the food in different way. In every option there are small and big packs, but the weight and calories are different. So this made it even harder for us to decide and see which company is the cheapest. To state this, we would have had to calculate the price and calories for each one and then compare them, but it seemed pretty ridiculous to us.
To compare, look at these meals- big portions, regular prices without discounts and their calorific value:

Mountain House: Spaghetti Bolognese, weight 236 g, 1190 kcal, price 9,37 €
Trek'n'Eat: Pasta in soya-bolognese sauce, weight 180 g, kcal 610 kcal, price 8,20 €
LYOFOOD: Penne Bolognese, weight 128 g rehydrated, 517 kcal, price 8,80 €

The price is the one thing, but if we are planning to eat only freeze-dried food, we have to take into consideration the taste as well. And here it's complicated as well, because every person has different tastes. In our general opinion, the most tasteless are Mountain House's meals. Trek'n'Eat is okay, but regarding the price the best is LYOFOOD, which is the most tasty as well.

Firstly, a big surprise for us is the wide range of choice. The menu includes even Bigos: the traditional polish sauerkraut! Freeze-dried fruits are available as well; you can use them in cooking or just eat them like healthy snacks. This company's food stands out from the rest, because it is really tasty and this made us choose it.
On Spitsbergen, despite the fact that there were no vegetarians, everyone liked the meal without meat, namely Farfalle with Gorgonzola and Spinach Sauce. The spinach is well seasoned, you can taste the characteristic taste of Gorgonzola and a nice surprise - almonds.
Well... let's talk about particular things, namely our ideas concerning freeze-dried LYOFOOD meals.

Advantages:
-    taste
–    consistency - meals weren't mashed
–    big pieces of vegetables and meat
–    you can feel and taste that there are no food preservatives
–    natural seasoned- it was tasty without additional seasoning, but if someone likes more spicy meals, one can season it by him or herself.
–    Variety- one can choose a meal with pasta, rice, pearl barely or potatoes
–    clear website which eases searching for meals

Some small drawbacks:
–    at the bottom the package has got folds, where powder goes in, which makes it difficult to mix with water. It can be slightly uncomfortable.
–    When the food is ready, you can tear off the notch, but sometimes it is difficult and we did it crookedly- just a small detail
–    after pouring and waiting 10 minutes, some pieces of meat were still hard, so it is good to wait few minutes more, or use Kuba Rybicki's method - instead of pouring the water into the bag, you can mix it in the pot.
Food and favored flavors are individual issues. What is worth to notice in the choice of freeze-dried food is the caloric value and what's inside it.
LYOFOOD strongly emphasizes the fact that only organic ingredients are used in the production of their meals. If you do not believe, read the composition of the product or just taste it. Even if someone considers that the food isn't well seasoned, will have to admit that the food doesn't smell and taste artificial at all. For sure, one won't get heartburn, as it used to be during eating freeze-dried food from Mountain House.
There is one common thing about the freeze-dried food, you have to carry the package when you finish eating the meal. I thought that after washing it, we will be able to use it for something, but inside the package you can still smell the dinner... I don't have any idea, how you can use the package. Necessity is the mother of invention and I'm sure that if there is a need, someone would think about it. I remember that Polish kayaker Aleksander Doba used freeze-dried food's packages to make waves protection... So be it!
How can I replace expensive freeze-dried food?
I cannot hide the fact that such food is really expensive, but it makes your life easier. One can manage in different ways. The prices of dried vegetables are attractive or you can dry meat by yourself. Of course you can buy already dried meat, but I don't have much experience in it. Usually it doesn't taste so good and includes preservatives. It's better to dry it by yourself, if you can. It doesn't required complicated activities, but it is usually time-consuming and you have to possess a very good oven. I'm not going more deep into drying fruits and vegetables, but it is easy, especially if someone has an electric drier.
It's different food, which you can take for a trip or long expedition.

Except the weight or time of preparing food, second important issue which limits a diet in difficult conditions is the temperature, heatwaves indeed. You don't have a fridge with you, where you can keep products and protect them against failing, so you have to prepare yourself and know how to replace milk, meat, fresh vegetables and fruits by dried or powdered substitutes.
Now, when we are in Australia, almost every breakfast consists of cornflakes with milk and various raisins. Of course we don't have fresh milk neither UHT, there is only milk powder and we add water to it.  
During cycling across Tajik and Afghan Pamir we had to prepare food for about 2-3 weeks, so we were picking high caloric snacks. Fresh fruits were replaced by dried apricots, mulberries and dates, raisins and mix of nuts (walnuts and peanuts). As a snack during up-heels, power bars were good, but after 3 months of cycling we were almost sick because of them, but we needed energy. In many shops you can buy energy gels, but after many tests, we haven't found any tasty ones. Those, which we bought before our visit to the Arctic, were great as a syrup for tea.
Good enrichment in our diet was honey and peanut butter - they are great when you don't have an opportunity to eat something warm in the evening and you have to kill the hunger or if you want to eat a sandwich or a snack during the day.

Bread - it is hard to imagine life without it, but after few days it starts to mildew and dry. From Middle Europe to China's border there is no problem with it, because if there are some villages you can knock at the door and buy some bread. However, if you are far away from people, you have to manage eating Wasa or crackers. 
Finally the most important - water! Without it, we are not able to survive more than few days, and because of physical effort every day the dehydration is extremely dangerous. If you are in the mountains, it is simple because you can find a river, stream or just snow and melt it. If you go across grassland and desert you have to carry the water for the whole trip. Here, in Australia even if you drive a car, you have to carry at least twice more extra water than you expect to be in the reclusive area. If the car is broken, you cannot go somewhere - you must stay and wait till somebody comes to help you. Taking water into a big consideration is a very important factor.

I think this is enough for a topic of eating in difficult trip conditions. If you have any remarks or comments, feel free to share.
Enjoy your meal, take care and see you outside!
Comments will be approved before showing up.