COOKING WITH... #1 LYO POWDERS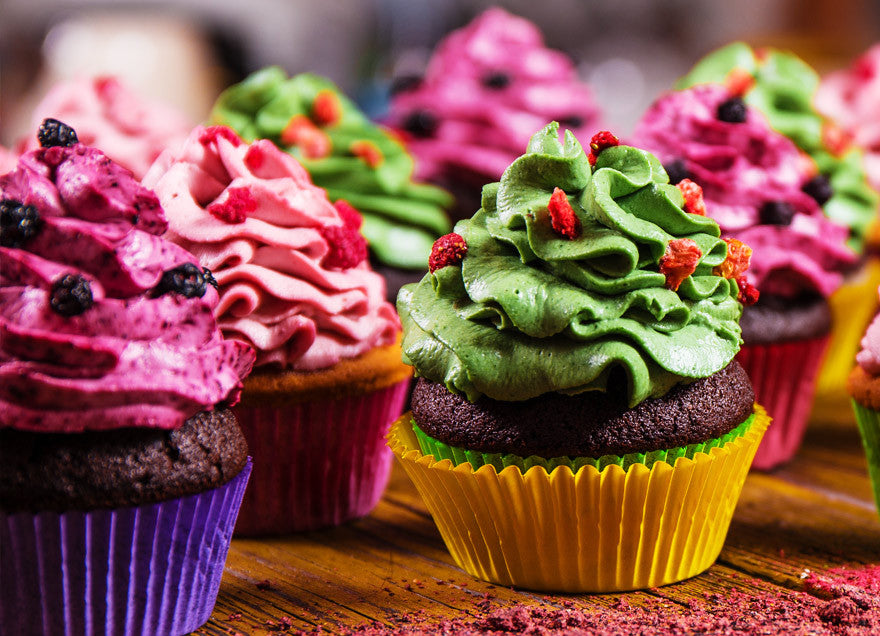 It's easy to use the LYO POWDERS, you just need some inspiration and…LYO POWDERS. They're an excellent source of taste and colours. Here are some examples of marvellous cookies made with love by Aga.
CHOCOLATE CUPCAKES WITH BLACKCURRANT OR SPINACH LYO POWDERS MASCARPONE CREAM AND LYO FRUITS
Ingredients for chocolate cupcakes:
2 cups all purpose flour
1 1/4 teaspoon baking soda
1 teaspoon salt
1/4 teaspoon baking powder
1 cup hot water
2/3 cup unsweetened baking cocoa
3/4 cup vegetable oil or shortening
1 1/2 cups sugar
2 eggs
Ingredients for the cream:
For decorations:
Preparation:
All ingredients should be at room temperature. Preheat the oven to 175C. Place paper baking cup in each of 12 regular-size muffin cups.
In a medium bowl mix flour, baking soda, salt and baking powder. Set aside. In small bowl, mix hot water and cocoa until dissolved. Set aside.
In a mixer bowl, beat shortening and sugar. Add eggs, one at a time, beating well after each addition and scraping bowl occasionally. Beat about 2 minutes longer.
On low speed, alternately add flour mixture, about 1/3 of mixture, cocoa mixture, about 1/2 at a time, beating just until blended.

Fill the muffin tins with prepared cake, filling each about 2/3 full.
Bake for 20-25 min. Cool the cupcakes before putting the cream.
Pour into mixer bowl whipping cream, Blackcurrant or Spinach LYO Powder, powdered sugar and Mascarpone cheese. Shortly mix on low speed, then increase the speed and mix until you receive a thick cream. But not too long, be careful that the cream does not get blighted.
Apply the cream to a piping bag and decorate your cupcakes. Sprinkle LYO fruits on the cream.
Comments will be approved before showing up.